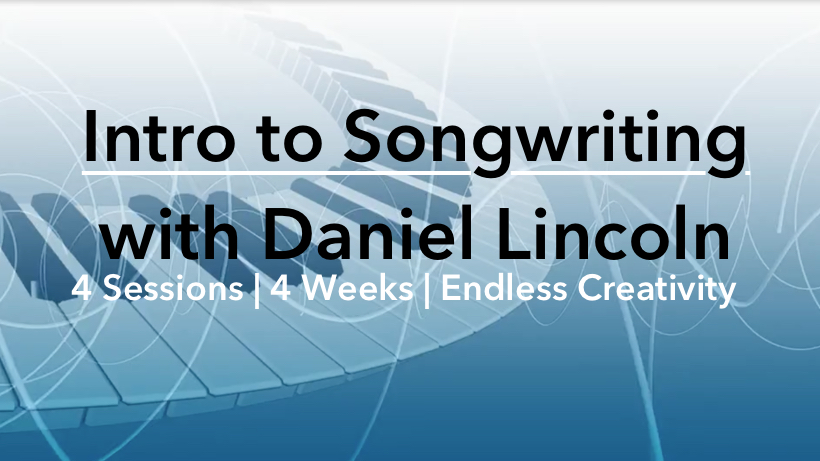 EASILY, COMFORTABLY, and IMMEDIATELY start writing original songs in this 4-week class with a professional songwriter!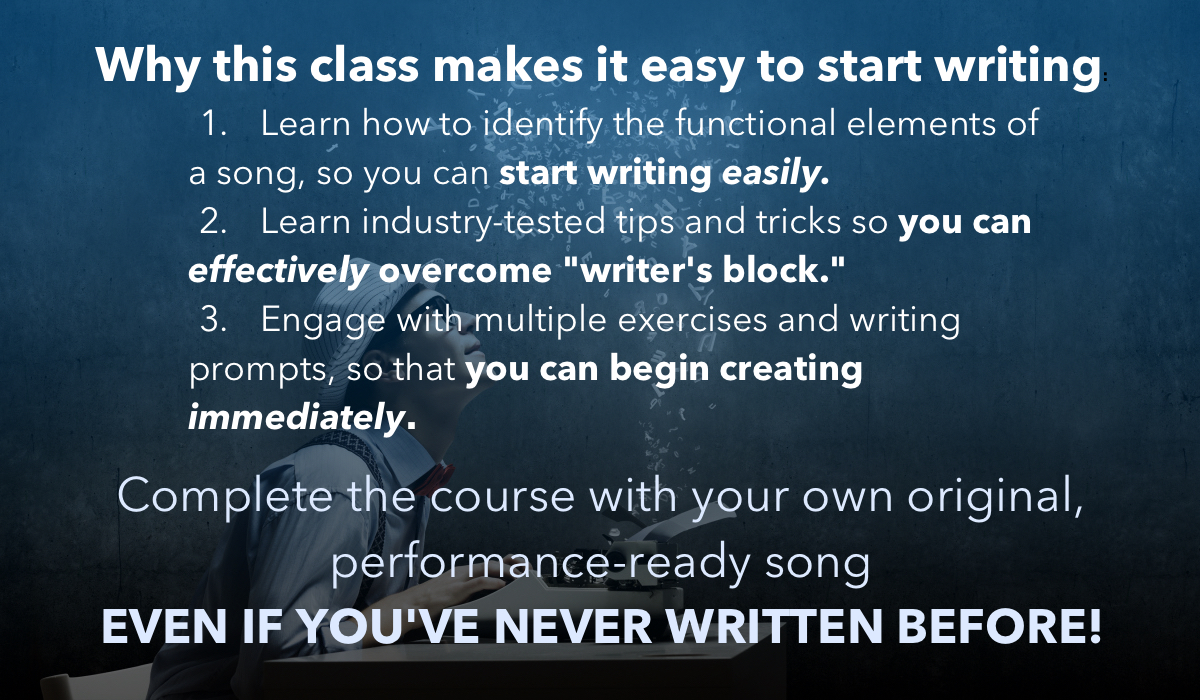 Not only will you complete the course with your own original, performance-ready song… but you'll receive writing prompts and inspiration tips that will keep you writing long after.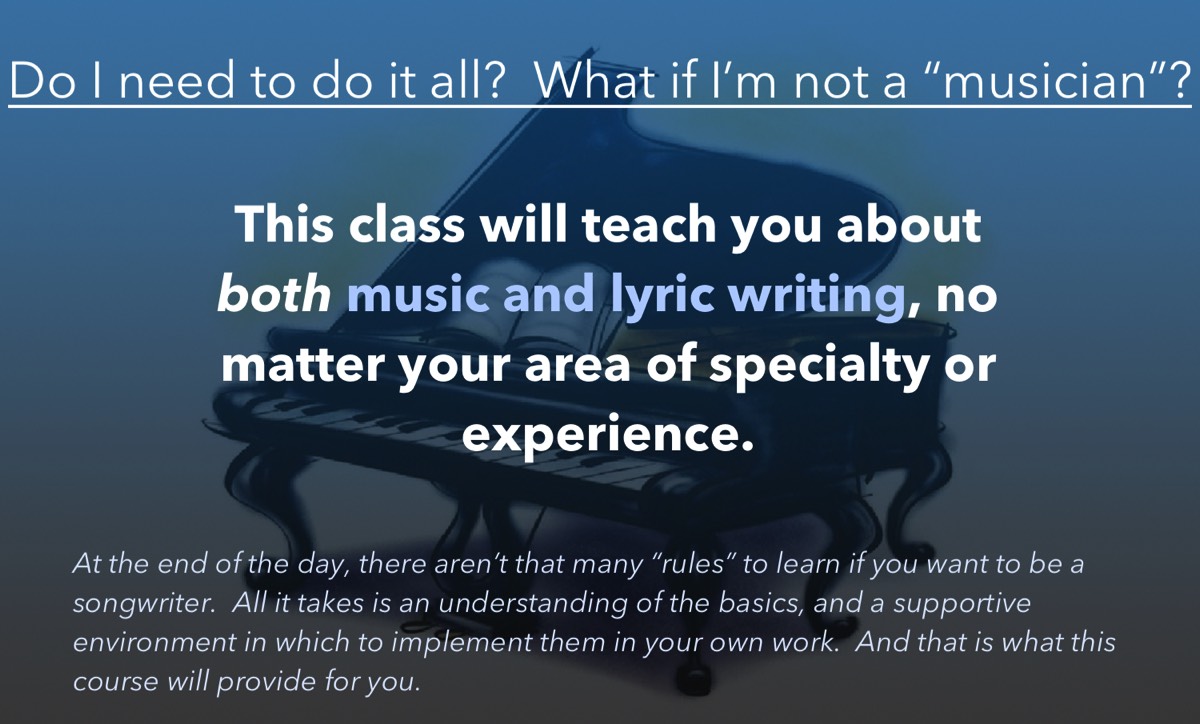 WEEKLY BREAKDOWN


Week 1:
An overview of the fundamentals, and developing a rock-solid song concept.

Weeks 2 & 3:
Using a clear step-by-step process and a series of exercises, take your song from concept to finished product.

Note: Since songwriting is 50% lyrics, 50% music, all exercises and assignments can be completed by all students, no matter your area of specialty.

Week 4: Song presentations, further feedback, and open discussion / professional advice on moving forward with your own writing.

PLUS, weekly "office hours" will be available for private consultations on homework assignments for any student who feels they could use extra guidance and support.*

AND THAT'S NOT ALL...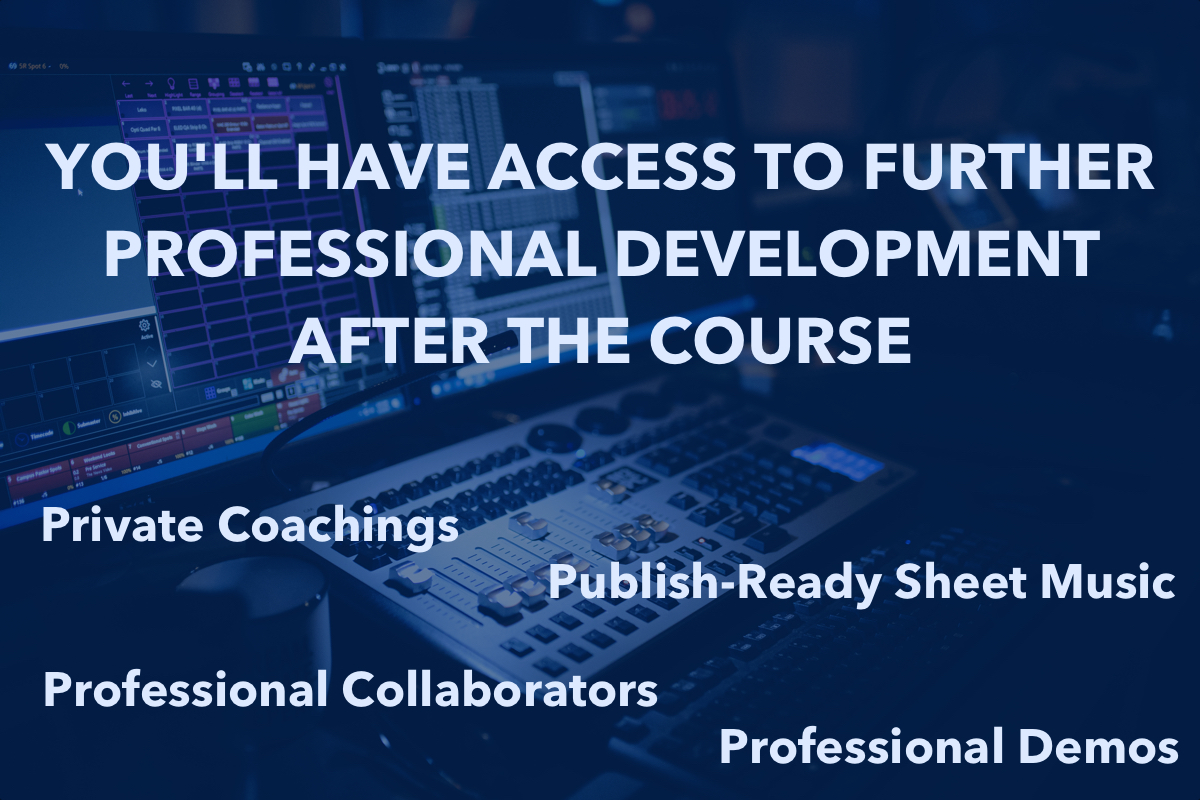 DATES AND TIMES

Classes will be hosted via ZOOM on Sundays, 2pm - 4pm EDT starting July 12 and ending August 2.

US TIMES
11am-1pm PDT (Los Angeles)
12pm-2pm MDT (Denver)
1pm-3pm CDT (Chicago)
2pm-4pm EDT (NYC)

EUROPEAN TIMES
7pm-9pm London
8pm-10pm CEST (Central Europe)


To participate in the course, students will need:

A passion for music, and an openness to expanding their creative process
Access to / ability to log in to ZOOM
The ability to share their material from their current location:

🖋
Lyricists will share their lyrics in PDF format utilizing their choice of word processing software.

🎹
Composers and composer/lyricists should be prepared to accompany themselves,
or record their compositions in a shareable format (mp3 preferred).
HOW TO SIGN UP

Daniel Lincoln's songwriting course is
normally
offered through conservatories and professional training programs for an enrollment fee of
$750-$1,000
.

Daniel teaches a privately-run curriculum online for a $400 enrollment fee,
a discount of already around 50%
.


HOWEVER
, recognizing the current financial difficulties students and artists face, the first ten new students to enroll in "Intro to Songwriting with Daniel Lincoln" can get
another
50%
off for a limited time by using the discount code
EARLYBIRD
.

Plus, by using the discount code, you also will receive one private 30 minute consultation (a $50 value)
FOR FREE
!
That's four weeks of instruction…
PLUS a free private lesson
(which would normally cost upwards of $1,000)
for
only $200!

That's a savings of $800!

Enrollment is limited!
To reserve your spot, email Daniel directly by clicking the CONTACT link below, or DM him on Instagram @dlincolndoesmusic.
"Office Hour" private consults are each 30 minutes long. Students who enroll using the discount code receive one appointment for free as part of their discounted tuition; subsequent appointments are offered for a discounted rate of $15 (only 50 cents a minute!).